Parents have a strange instinct of comparing their children with that of the others. This may seem like a basic human instinct, but in reality, this habit is not at all progressive. Every child is different, and they have different capabilities to grasp the lessons.
Every Child is Unique and So are their Capabilities!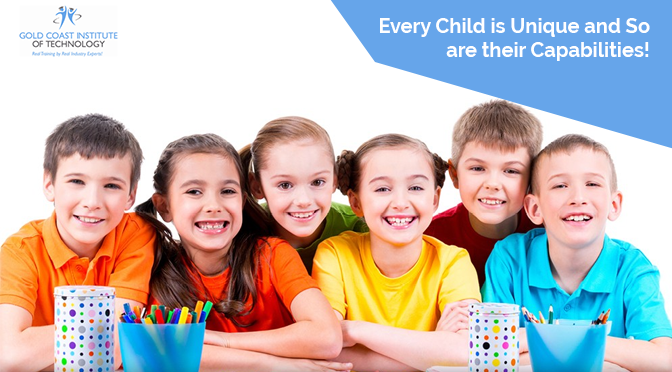 Instead of comparing your child with others, you should better concentrate on assessing your kid's growth based on the standard milestones. If your kid is able to break down each of those standard milestones effectively, that means, your kid is growing.
The rule applies to your kid's early education stages just like their primary stages of crawling, standing, taking the first steps or uttering the first words. The educators in kindergarten schools, who have opted for our childcare training courses in Brisbane, know how to assess the children based on their strength and weakness.
How quickly your child will develop these social or academic skills honestly depends on the individual ability. As parents, you can also assess their growth based on the following parameters after they have ended their time in kindergarten.
By the end of kindergarten, your kid should learn some essential formal behavioural skills. They should not feel uncomfortable to obey instructions anymore. They will develop the sense of quietly falling in a line. Further, they will also understand why it is essential to wait for their turn patiently.
Be Confident about Surviving Alone
Some children are not very much fond of the idea of staying apart from their parents for long hours. For this reason, in the initial stages of the kindergarten, the children often remain quite scared and cranky with the idea. But, you can hope your child to overcome this fear once and for all.
Concentration Ability will Improve
During the kindergarten learning phase, the childcare educators put stress on improving memory skills. As per the trainers associated with childcare education in Brisbane, you will see the change in your child when you will witness that they are playing with the building blocks with concentration, trying to solve the problems on their own, engaging with painting. If you see these changes in your child that indeed indicates growth and progress.
You can see the change in your child when they will be able to identify the 8 different colours, count the numbers 1-20 perfectly and can frame some simple sentences on their own. Also, they should be able to identify different shapes and feel confident about the basic addition and subtraction easily.
One of the most important aspects of children growth is indeed hand-eye coordination. By the end of kindergarten duration, your child must have learned the left and right-hand dominance. They must have learnt how to listen and follow the instruction and also hold the crayons or pencils accurately.
Lastly, a little piece of advice for all the parents out there. Don't panic if your child has not met these progress parameter. Every child has different abilities, and they will shine in different areas. So, have patience and let the children catch their own pace.
Want to become a childcare educator with proper training? At the Gold Coast Institute of Technology, we will make you eligible for the job in no time. Enquire Now to know whether you qualify for this course or not!